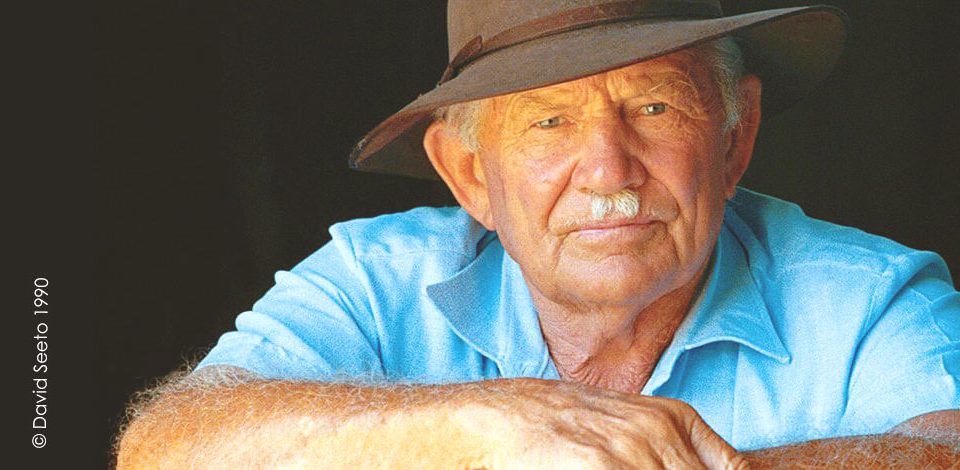 Spanning the whole span of the 20th Century, the colourful life of Reginald Murray Williams, widely known as simply 'RM', would make the perfect script for a rip-roaring action movie.
Born in rural South Australia in 1908, RM Williams rose from modest circumstances – what he later called "the clay pit of poverty" – to become one of Australia's most successful, and revered, business tycoons. Today, the R.M.Williams range of riding boots, leather belts and other Outback clothing is sold in the world's most fashion-conscious cities.
In his later years, RM Williams was showered with every type of honour, including being made a Companion of the Order of St Michael and St George (CMG) by Queen Elizabeth II, but never forgot his early years scratching a living in Australia's arid interior.
As a young man he worked as a lime burner, camel driver, manual labourer, well sinker and horse trainer. He never forgot these early struggles or the strong bonds of friendship he forged with other stockmen and local Aborigines – indeed it was during this period that he met Dollar Mick, a celebrated horseman, who taught the young RM how to make saddles, pack bags and the celebrated leather riding boots which became his hallmark.
"We were partners in what must have been the humblest beginning ever of what grew into a multi-million dollar business," he wrote in his 1984 autobiography Beneath Whose Hand. "The ideas that we dreamed up round the campfire never changed, and the beliefs that we shared continued to govern our thinking throughout a lifetime."
Working with the most basic of tools, the two men fashioned a unique riding boot, now universally known in Australia as "RMs", from a single piece of leather. These elastic sided boots, which require 80 distinct processes, are still made by hand at the famous R.M.Williams Boot Room in Adelaide.
"You can screw them up and do what you like. You can't destroy them," he once said. "We hope they'll wear a long time yet. People expect them to last."
In the 1930s RM left his beloved Outback and moved to the city, establishing his first workshop in the corner of his father's wood shed at 5 Percy Street, Adelaide – an address which was soon to become synonymous with stylish, durable and well-made boots, shirts, jackets and other bush clothing, including a distinctive 'drover's coat', a long coat designed to keep out the winter chill.
Although the first people to buy these beautifully made riding boots, leather belts, moleskin trousers and oilskin coats were cowboys, drovers, miners and other Outback types, this distinctively Australian look soon began to appeal to city dwellers – even those well beyond Australia's shores. Today, these long-lasting elastic sided boots are worn in the boardrooms of Sydney, New York and London as well as dusty outback stations. Now available in a huge variety of designs, shapes and finishes they nevertheless still adhere to the same principles established by RM Williams and Dollar Mick in their bush camp all those years ago. "The patterns we developed to suit a bushman's needs were still good half a century later," RM Williams recalled. "My success began the night Dollar came in his mule buggy [to my bush camp] and asked to stay."