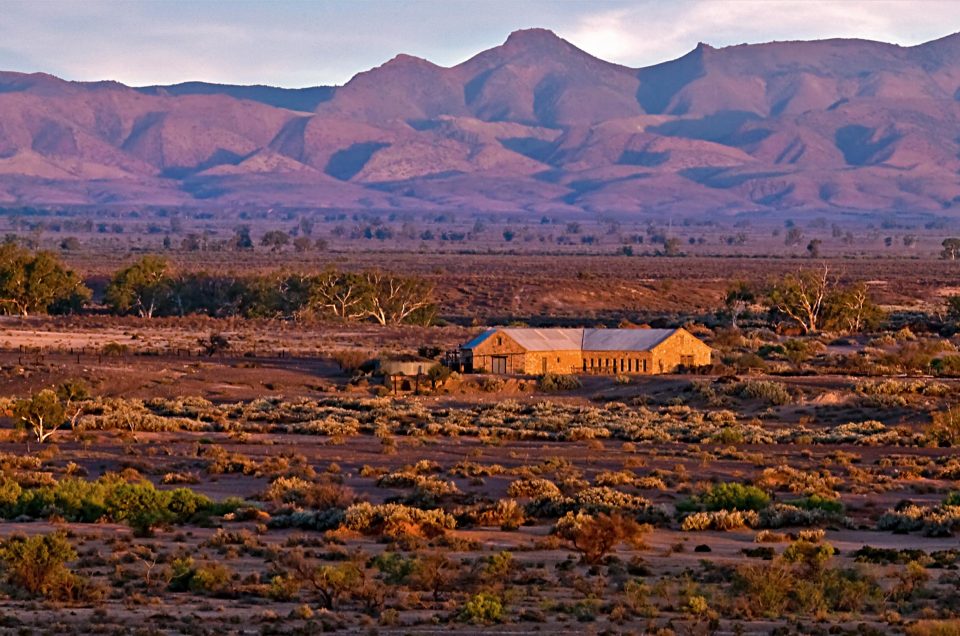 Do heroic landscapes, like those found in the far north of South Australia, produce larger-than-life personalities?
Standing at the remote bush camp in the Gammon Ranges where RM Williams fashioned his first pair of boots it's easy to see how this ancient and unforgiving place shaped the life of Australia's most famous bushman.
"We owned only the blankets and the swag cover," he later recalled. "No place, no shelter, but the hopefulness of youth saw that as a small worry."
After a hard day's work sinking wells for local station owners, Reginald Murray Williams, then aged just 22, would make pack saddles, harnesses, water canteens and other gear from scraps of leather – and fat from station kitchens. A chance encounter with another wild Outback character called Dollar Mick, who was a part indigenous man from further north and a fine horseman, changed the course of RM Williams' life. Together they made the prototype of what became the R.M.Williams Craftsman boots – hard-wearing elastic sided boots fashioned from a single piece of hide. "He was the most loyal mate a man ever had," wrote RM about Dollar Mick some 50 years later.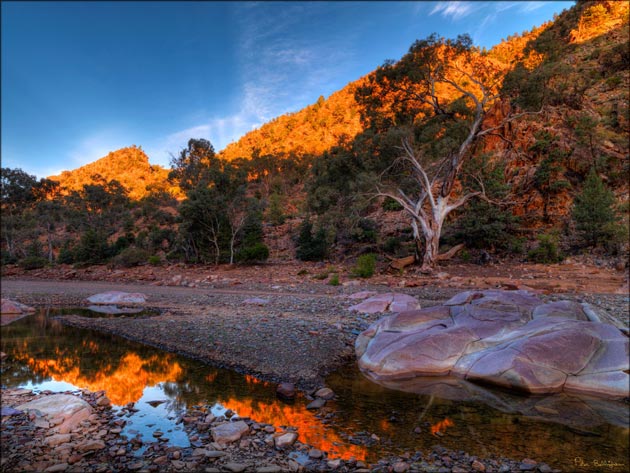 A visit to the old bush camp in the Italowie Gorge, now part of the Vulkathunha-Gammon Ranges National Park, is one of the many highlights of The Tailor's In RM's Footsteps – a fully hosted four-day tour which takes the visitor to some of Australia's remotest landscapes, such as the Flinders Ranges and Lake Eyre, but also into the Adelaide workshop where R.M.Williams boots are still made today; this private tour of the R.M.Williams operation is an exclusive offering for The Tailor working closely with R.M.Williams.
Before founding the global clothing brand which still bears his name, RM Williams worked as a camel driver, horse trainer and general labourer across the far north of South Australia. During this period he befriended Afghan cameleers, Chinese traders and Aboriginal stockman – living and working with an Aboriginal tribe still living a traditional lifestyle in the 1930s.
"RM Williams was the real deal – there's absolutely no doubt about that," says Arthur Coulthard, senior ranger with for National Parks South Australia. "He did many good things for the Aboriginal people out here."
As an Adnyamathanha man, Arthur has a special, very personal connection to Italowie Gorge. He was born in the dry creek bed 44 years ago.
"It happened by accident," he recalls. "My mum was on her way to the local bush hospital but she never made it, y'know," he says. "But we had the local midwife with us so everything was fine."
Apart from his general duties Arthur is also a senior cultural ranger for the whole of the Flinders Ranges, a region of ancient mountain ranges, escarpments and grasslands dating back some 500 million years. Ochre from these ranges was once traded to the Top End, Western Australia and possibly into South-East Asia – in return for valuable goods, such as boomerangs and didgeridoos. Some of these ancient storehouse have been found, but others await discovery.
"As a young fella myself I'm still finding new sacred sites," says Arthur. "I am just scraping the surface. Never a day goes by without me learning something new about my culture, the Dreaming and the creation story of the Flinders Ranges."
As a young Outback adventurer RM Williams moved easily from the world of these desert nomads and the European pastoralists who established vast sheep runs in one of the world's driest environments. In RM's Footsteps also delves into the struggles, achievements and undoubted resilience of these early white settlers who battled draught, flood, isolation and economic downturns.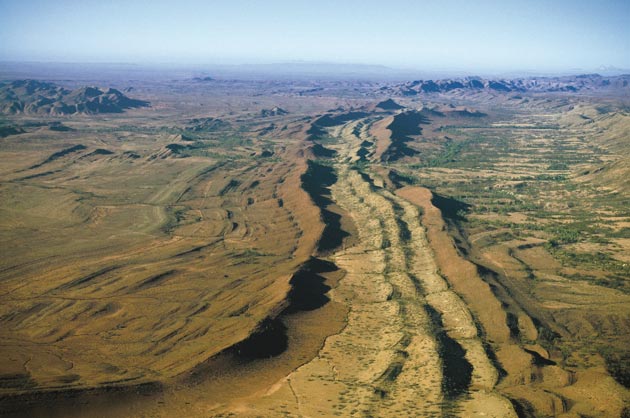 Many of the old stations, places with evocative names like Nilpena, Arkaba, Beltana and Angorichina, covered areas the size of European principalities. They were self-sufficient, growing much of their own fruit and vegetables, running their own schools, workshops and other enterprises.
Dean Rasheed, who owned the 60,000-acre Arkaba (now a conservation park) for many years, says that traditional station life changed little until fairly recently.
"When I was a young bloke cars were still a novelty. Seeing one out here was big deal," he recalls. "Until the 1990s most of the station work was done on horseback. Now it's motor bikes."
As the resident guide on the R.M.Williams tour, Dean is a fund of knowledge about the history of the Flinders Ranges and has a particular interest in early European explorers such as Burke and Wills, who came to a sticky end on Cooper Creek in 1861 – an eco-cruise on this inland waterway is part of the trip, as is a visit to the nearby Outback settlement of Innamincka (population 131).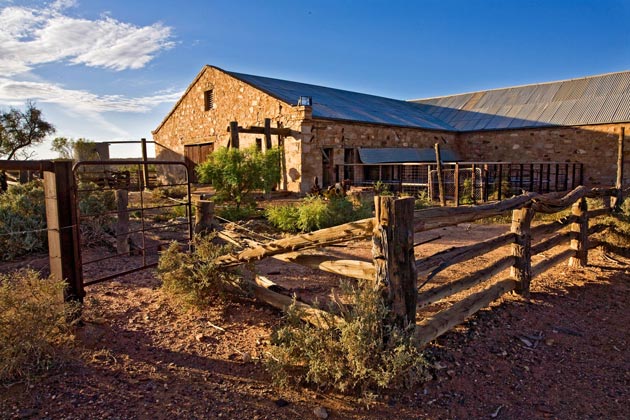 Over the years Dean has hosted many VIPs and celebrities, including a famous British actor who volunteered at a sausage sizzle to raise money for the local primary school, and clearly relishes the opportunity to show off his country to outsiders.
"One time I had this guy from Texas and I could tell he was itching to ask me how big the ranch, as he called it, was. You know Texans," he says. "So eventually he pops the question – so how many acres have you got here, Dean? But I told him I only ever discussed acres when I was ordering new carpet for the homestead."
No-one is likely to forget stepping aboard the gleaming Tailor Pilatus PC-12 for the first time, the sight of Wilpena Pound and Lake Eyre from the air, flying over Big Red (a giant sand dune), 'smoko' at the Birdsville pub, seeing a Yellow Footed rock wallaby in the wild or that quiet moment of reflection next to RM's bush camp.
But what really sets this tour apart is the wealth of human encounters packed into these four days. People such as Arthur Coulthard, Dean Rasheed and Ross and Jane Fargher (who run The Prairie Hotel) bring the country to life with their stories and insights – and channel the spirit of RM himself.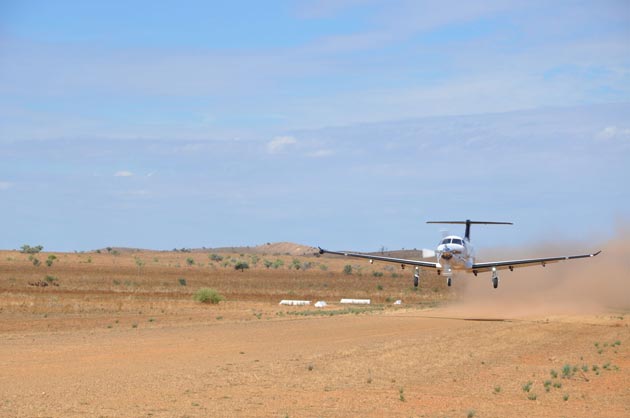 *Please note: The In RM's Footsteps itinerary has changed since publication of this story. See www.rmfootsteps.com.au/tour/australian-heritage-tour/ for updated itinerary.